Greeting
I (Noriaki Nakai, MD.,PhD) am an experienced dermatologist certified by the Japanese dermatological association. I also studied at University of Bonn in Deutschland as a postdoctoral research fellow from 2008-2009. Then I worked as a researcher and dermatologist at the Kyoto Prefectural University of Medicine until March 2016. I can communicate with you in English. If you have any questions about skin problems, please visit our clinic.
Consultation hour
|   | Mon | Tue | Wed | Thu | Fri | Sat |
| --- | --- | --- | --- | --- | --- | --- |
| 9:00~12:00 | ○ | ○ | ○ | / | ○ | ◎ |
| 15:30~19:00 | ○ | ○ | ○ | / | ○ | / |
Our clinic is open from 9:00 to 12:00 and from 15:30 to 19:00 on Monday, Tuesday, Wednesday, and Friday. It is open from 9:00 to 13:00 on Saturday.
Access
Schematic map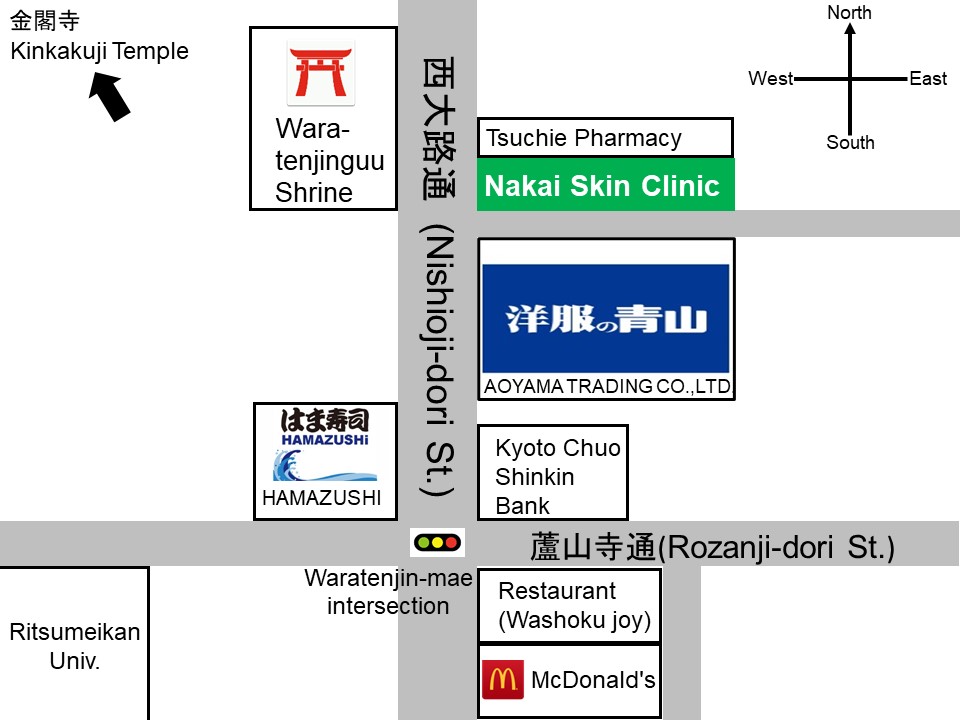 Nakai Skin Clinic
Address: 35 Kinugasatenjinmori-cho, Kita-ku, Kyoto 603-8375, Japan
TEL: 075-464-4112
There is bicycle parking lot behind the clinic.
---
Procedure
Please submit your Japanese health insurance card (Kokumin kenkou hoken) at the reception desk. A numbered ticket will be issued on the first-come-first-served basis.
You can easily check your turn via internet as described below and wait for your turn without staying in the clinic.

1. Go to our website (www.nakai-skin-clinic.com) on your PC, smart phone or mobile phone.
2. Find and click the link "現在の診察順状況" and then the current patient number will be displayed. Please come and check in when your number comes up to the 5th in the queue. If you are not in the clinic when your name is called, you will wait for some patients as a penalty.
Attention
・Registration is on first come first served basis. We don't accept appointments.


・If you don't have the Japanese heath insurance card (Kokumin kenkou hoken), you will have to pay the full amount of medical expenses. Without enrollment into the national health insurance system, patients are responsible for 100% of medical bills.
・Our clerks on the desk speak only Japanese unfortunately.
Examples of the target skin diseases
Infant skin rashes, Atopic dermatitis, Eczema, Dermatitis, Acne, Urticaria, Insect bite, Athlete's foot, Herpes, Wart, Bacterial skin infection, Alopecia, Psoriasis, Burn, Distinction between mole and skin cancer.

If you have severe and/or complicated skin disease, we can write you a patient referral document to a specialist at a general hospital.